Anna Mazzone, Head of New Ventures, Thomson Reuters
"Annette has one of the sharpest minds I've encountered. She has a remarkable talent to both identify gaps in thinking and in collaborating on problem solving.
As a big supporter of women in leadership, she works with them to effectively develop their brand. I would recommend Annette without hesitation."
Simon Scullion, R&D Director, Pepsico
"Annette is a superb collaborator. We gave her the brief to help us to better align Innovation stakeholders around the globe, adding to our ability to focus on key projects with speed and agility. Annette worked with us to both design cross-disciplinary ways of working and via workshops, deliver relevant leadership approaches for individuals/ teams in different R+D functions. The results are leadership tools everyone can use to better align goals, influence senior leaders and unlock organisational obstacles. Annette has an inquisitive and open style but will also challenge where appropriate. I would recommend her without hesitation."
Darren Balcombe, Deputy CEO, Capital Enterprise
"Annette, amongst other things, is an outstanding teacher of business communication. Her superpower is to get start-ups communicate their value with impact. I would recommend unconditionally, both with beginners and the most seasoned professionals."
Karen Ball MBE, Tech City Investment Organisation, Directorate for Investment, UKTI
"There are few people who are both as effective and as fun to work with as Annette. Together we designed and implemented a plan for Tech City, to offer high-growth start-ups the very specific, and varied, help they needed to get to the next level. Every month, Annette gave a pitch workshop that allowed company members to learn to think strategically - and then to articulate their business proposition clearly, efficiently, and engagingly.
This had two effects: the first is that they were better prepared to both pitch for investment and ask mentors the right questions in follow-up workshops. The second was that mentors and investors could understand easily what each company offered, when considering whether to invest or how best to advise them.
The plan was so successful that we began with three companies and 6 mentors in the first month and finished with more companies and mentors/investors than we could accommodate signing up. Much of this was due to Annette's dedication, flexibility, and talent at what she does. Her workshops were very popular for both mentors and companies. I would happily work with Annette again at the first opportunity."
Jess Williamson, Associate Director, Springboard/TechStars
Now PropTech Strategist at Ministry of Housing, Communities & Local Government
"We have had tremendous feedback from the startups in Tech City Entrepreneurs Festival, so huge thank you for taking the time, energy, and awesomeness to come put on an unforgettably valuable pitching workshop. We also couldn't have found better prize for the winner than two hours of your time, thank you for being tremendously flexible – and so wonderful at what you do. It's a long list of things to thank you for.
The startups were really happy with Bootcamp + Investor Day and we could not have done it without you!"
Noel McCarthy, PwC, New York
"Annette is the Rolls Royce of Pitch Mechanics for entrepreneurs, and from my work with her at PwC, there's nobody better to help both SMEs and corporates as well. Through teaching how to think through a business proposition and express it for every audience, Annette transforms her clients into leaders.
Annette's work with entrepreneurs is stellar, and she outshines anyone else in the field. I wouldn't use anyone else to prepare companies to persuade investors to part with their money, incubators to admit them, partners to collaborate, or clients to pay for services.
This isn't just smoke and mirrors. From SMEs to corporates, Annette effectively teaches people to play to their individual strengths with hands-on practice at thinking through challenges, finding the answers, and expressing them in a way that commands attention. I would recommend her without reservation."
Doris Põld, Cluster Lead, Estonian Association of Information Technology & Telecommunications
I have relied for a decade on Annette's insightful teaching of a combination of leadership strategy and communication for all of our companies that are interested in expanding and exporting internationally. We met when Annette was first invited by the British Council and UKTI to help the X-Road present to the British Parliament to demonstrate the backbone of Estonia's technology infrastructure. Since then, we invite her to work with us as often as possible.
I've never met anyone who so consistently strikes the right note in her business dealings. A natural communicator, she cuts through the waffle and presents important points clearly and accurately, and in a truly engaging way. When faced with difficult situations, she finds creative solutions with ease and enthusiasm.
Sally Berkovic, Chief Executive, Rothschild Foundation (Hanadiv) Europe
"Annette has a way of understanding and conceptualising workday situations that cuts to the core of the issue in a very perceptive manner.
Annette is bursting with enthusiasm for the work she believes in, and she has the ability to inspire confidence in one's own abilities. She is a demanding, yet supportive taskmaster, setting structured written homework which I found very helpful. Over six sessions, Annette offered me many practical techniques that helped to improve my presentations and encouraged me to rethink established patterns of my own behaviour and in doing so, strengthened my capacity to make some significant changes in the way I interact with people."
Harpreet Panesar, International Chartered Accountants of England and Wales
"I have never seen more engagement and animation from our members as I did in one of her recent workshops, and we got nothing but enthusiastic feedback. Annette is, without a doubt, my go-to guru for strategic leadership thinking and communication.
It's impossible not to learn from Annette about doing business, even if you have a great deal of experience presenting yourself and your value proposition. Her website says she'll bring out the best in you and your organisation, and it's absolutely true."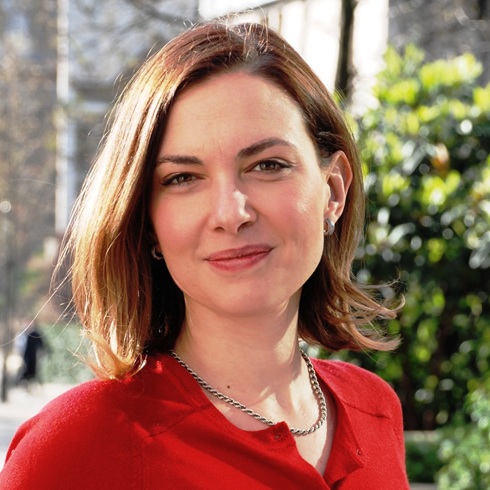 Viktorija Grubesic, Director, Women Talk Real Estate
"Annette has a rare talent of bringing out the best in professional women who want to build confidence and create maximum impact. Annette teaches our members to amplify their leadership presence by aligning their personal brand with the expertise for which they want to be known. By the end of the workshop, they are equipped to build muscle memory to sustain growth. We have nothing but great feedback and are a stronger organisation because she is now a colleague."
Hardi Meybaum, CEO and Founder of GrabCad
Now General Partner, Matrix Partners
"Thank you, thank you, thank you, Annette. The company is now global. Your lessons are still with me; even after around 1000 pitches, they all make perfect sense."